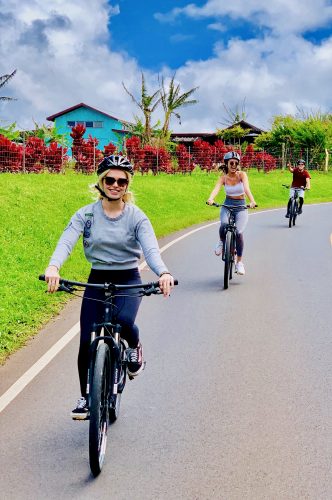 RATED #1 MAUI BIKE TOUR 2019
Aloha Future Bombers!
!!!WARNING!!! IF YOU ARE SOMEONE WHO WANTS TO WAKE UP AT 2 AM, GET CRAMMED IN A VAN WITH 13 OTHER PEOPLE, SPEND 3 ADDITIONAL HOURS IN THAT VAN, FREEZE YOUR ASS OFF FOR AN HOUR TO MAYBE SEE THE MOST OVERRATED AND CROWDED SUNRISE, AND THEN BIKE DOWN SLOWLY WITH ALL THE OTHER GROUPS IN HEAVY TRAFFIC…MAUI BOMBERS IS NOT FOR YOU…BUT, IF YOU ARE AN ADVENTURER WHO WANTS THE BEST BIKING EXPERIENCE IN ALL OF HAWAII, THEN SADDLE UP PARTNER!
My name is Matt. As owner/operator I will personally be guiding each and every Maui Bomber – Maui Bike Tour , to ensure the most fantastic experience . We offer both guided and unguided tours. Please read on.
 Maui bike tours companies, there are 10.  How did Maui Bombers become the #1 rated company in just 3 short years? THE RELENTLESS PURSUIT TO EXCEED YOUR EXPECTATIONS. I had worked for 5 years with one of the big bike tour companies, and that's where I learned how to be the best I could be within the restrictions of how all the companies did their tour. There are a lot of negative aspects about how everyone else does things.I won't go into details, just read their reviews. When I started Maui Bombers, I was able to eliminate all the negative aspects AND add my own positive aspects…along with a little creativity and originality. From day 1, my goal was to offer you the MOST incredible biking experience on the island. We have accomplished that. We truly are in a league all by ourselves. Please, do not take our word for it…check out our consistent 5 star reviews. Now that we are #1, we have a new goal: TO BE THE BEST THING YOU EXPERIENCED YOUR WHOLE TIME HERE ON MAUI.
PEOPLE LOVE US ON TRIP ADVISOR!
Thank you to all the great riders and customers for helping us achieve the 2018 Trip Advisor Certificate of Excellence!

NEWEST…
addition to the guided Maui downhill bike industry. There are 9 others that offer bike tours down Haleakala volcano. Maui Bombers is the most unique.
LONGEST…
at 26-40 miles in distance, easily the longest bike ride. The other companies distance varies from 7 to 25 miles.
FASTEST…
Most of the other companies use single speed beach cruiser bikes, designed to assist novice riders. It's a fun ride, but mostly coasting. Maui Bombers offers the only Maui Bike Tours for experienced bikers.
BEST BIKES…
Maui Bombers uses modified Trek hybrid bikes with 21 speeds. That means shifting gears and pedaling through the flat areas and hills.
SMALLEST GROUPS…
maximum 6 per tour. Others max out at 13! We use same size van, but only allow 6. This makes for much more comfortable van ride, more personal Maui bike tours, and most importantly, everone gets the personal attention they need.
PRIVATE /VIP TOURS…
Maui Bombers is the way to go if you want the the whole tour to yourselves. Perfect for the solo traveler, couples, and  small families. We will tailor the tour to meet your specific requests and you would have control of many parts of the tour. And our very small staff will make you feel very comfortable, like family.